Need to scan a document but don't want to invest in a dedicated device? In a hurry with a piece of paper that needs to be sent as soon as possible? Why not use your smartphone! Thanks to this tutorial and the increasingly powerful sensors of your device, scanning documents will be child's play.
You may also like: How to take a screenshot with an Android smartphone
In many ways, digital has completely annihilated paper. It must be said that it is superior on many levels: ecologically, of course, since it does not kill any tree. But also on the practical side, when it's much easier to download a book in a few seconds than to walk to the store.
This is all the more true in the context of administrative procedures. Although government is coming digital, many papers still need to be received in person, signed, scanned and emailed for speed.
But as a student or when it's urgent, for example, you don't always have the option of having a scanner under your elbow. So why not use your smartphone in this case? It's entirely possible, and we'll show you how to scan documents right from your phone.
Requirements
In itself, using this method does not require any prerequisites since it is based on using an Android application. However, keep in mind that this method obviously uses your phone's photo sensor. This must also be at least powerful in order to be able to capture a sheet. Test this method yourself and make sure that the document remains legible before sending it.
The environment in which you are taking this shot must also be taken into account. Of course, a dimly lit room will not have the same effect as a light-filled room. Also, be sure to scan for a neutral background to facilitate the work of the application.
The easiest way is to use the Google Drive application, which is already preinstalled on many smartphones. It can do much more than just secure your important documents – and it includes a very efficient scanning function!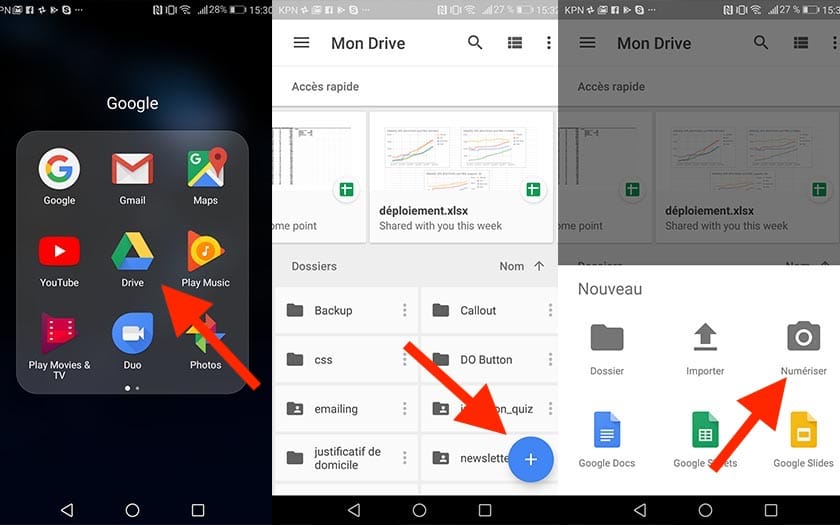 Open the app Google Drive
press characters +
Touch scan
The application will then request access to your camera – of course you have to agree.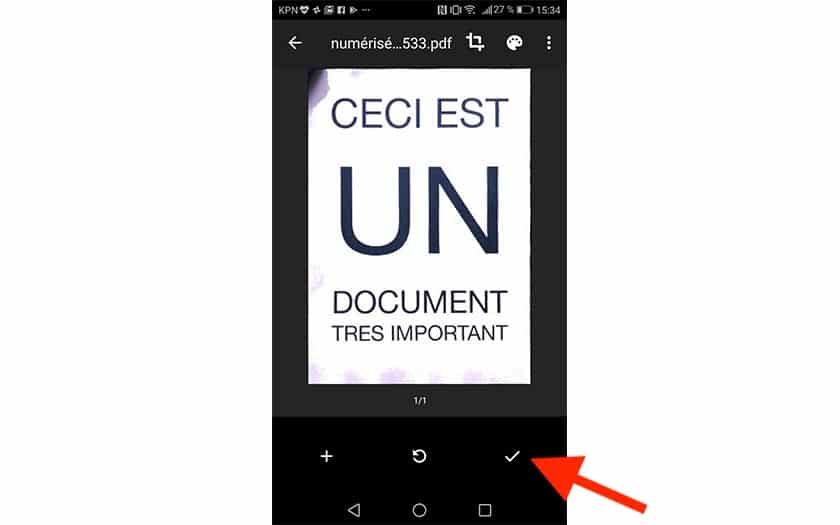 After scanning the document, tap the icon v on the right to validate your scanned document and transfer it to your Google Drive. This is automatically cropped, the contrast increased for better legibility and the result converted into PDF format. If you don't like this scan, you can tap the middle button. Finally, to add more documents to the same PDF, tap the icon +.
From there you can share your document directly from Google Drive. Or download it to your computer to do with it as you please.
The other way to scan a document from your smartphone is to use another application that offers a few more options. Here we decided to show you how to use CamScanner which is available for free on the Play Store.
The free version adds an ad banner to your scan. If you don't want it, the paid version is available here for €2.09 in limited promotion (usually €4.99).
Try the application first, but believe us: €2 will quickly be a ridiculous sum compared to the service the application offers you.
First launch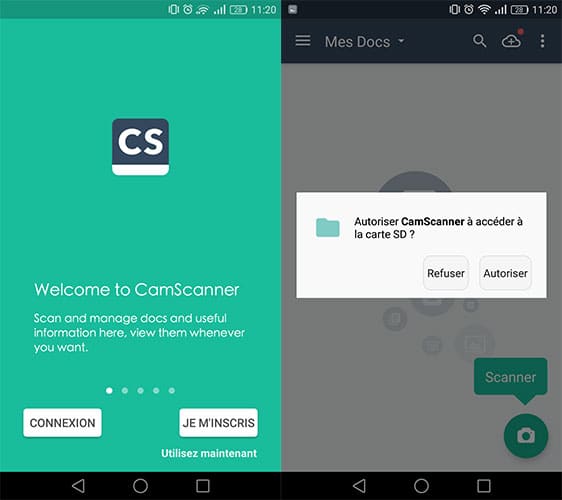 For example, when you start the application, you can create an account to save your scans online. This step is optional, so it is not covered in this tutorial.
Touch use now to skip this step
Accept permission to access storage
Touch the icon cameraand accept the authorization request again
Scan with CamScanner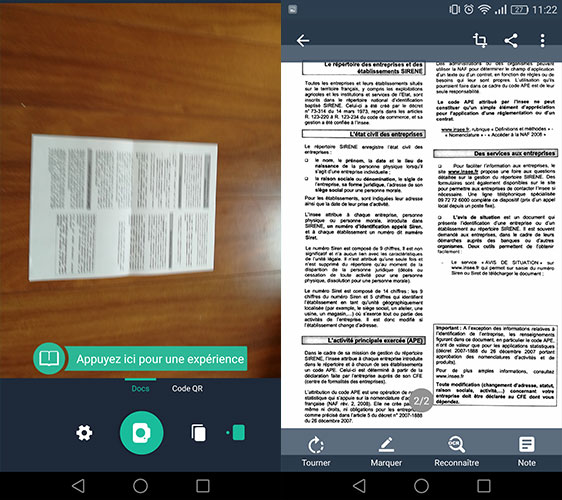 So here you are in the application scan interface. Please have a contrasting background with your sheet for the app to recognize and be in a well-lit room.
Touch the document over your screen to get the best focus
take the photo
As with Google Drive, the rest is automatic. You can also batch capture to create a multi-page PDF file.
Retouch recording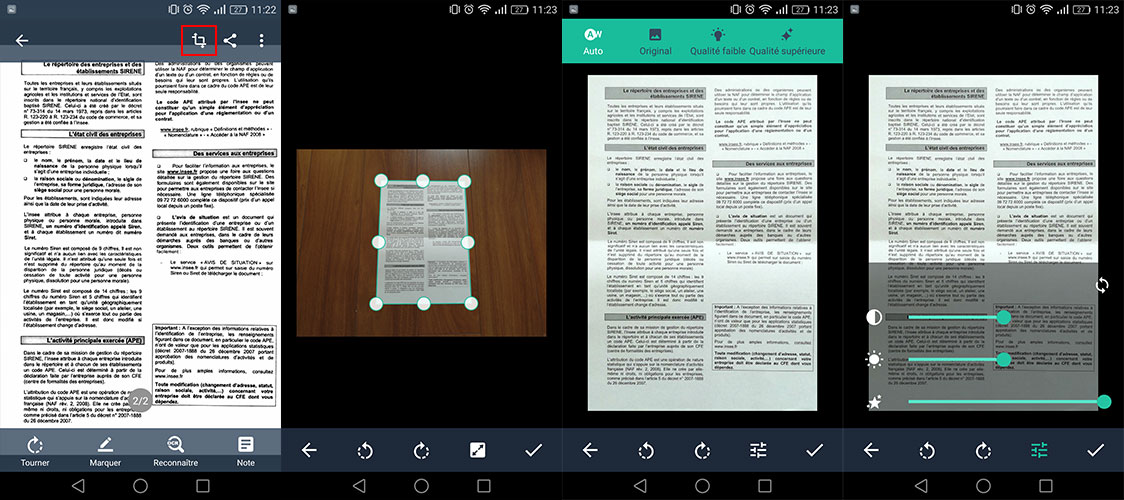 Basically, CamScanner's performance is pretty impressive. But if it made a mistake by automatically cropping a photo, or if you want to retouch the contrast of your scan:
In the preview, tap the icon surrounded by a red square (see above)
In the first window that opens, you can edit the automatic cropping of your sheet. So if you think that the application has cut off part of your document, you can find it here and touch up the cutout as you like.
Once that's done, you'll find yourself in CamScanner's editing interface. At the top of the application you have settings available: Auto, which retouches the contrast and brightness of the document so that you make it as readable as possible, Original, which preserves the source, Low Quality and Higher Quality, whose names are pretty in themselves ambiguous.
At the bottom of the interface you also have the option to tilt the image left or right to find the document in its natural reading direction. By pressing the slider icon you have access to much more precise settings: contrast, brightness and finally details. Be sure to manage your balance of brightness and contrast so that the document is readable without erasing certain elements of the document.
Scan a document: some alternative applications
You already knew the two solutions explained above and want an alternative? These are very numerous in the Play Store! Here is a list – not exhaustive – of free and worthy scanning applications:
office lens
Adobe scan
Awesome scan
And here you are, ready to send anything to your bank, to the state, or whatever! You didn't think your smartphone could be used like this, did you? These little devices handle it better than you think!